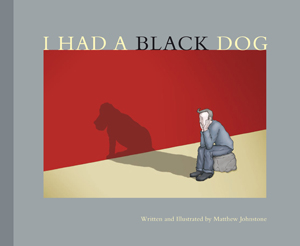 I Had a Black Dog
Since Winston Churchill popularised the term Black Dog to describe the hellish bouts of depression he experienced, it's become shorthand for the disease suffered by one in five people, often in shame & silence. An illuminating, moving and uplifting illustrated book about depression created by Matthew Johnstone.
I HAD A BLACK DOG
By Matthew Johnstone
Published 1 August 2005 RRP AUD $16.95
ISBN 0330421832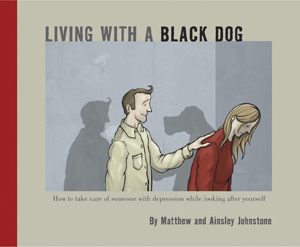 Living with a Black Dog
Millions of people will suffer from depression at some stage in their life. When the Black Dog comes to live with them, it also moves in with their loved ones – who may not have the tools to help support the sufferer while looking after their own wellbeing.
Living With A Black Dog is Matthew and Ainsley Johnstone's illustrated, must-have guide for the partners, family, friends and colleagues of depression sufferers. It includes practical advice about recognising the symptoms of depression in a loved one, living with a depressed person and helping them to tame their Black Dog.
Matthew and Ainsley also provide tips on self-preservation for carers, so they don't come to adopt a Black Dog of their own.
A companion book to I Had a Black Dog, Living With A Black Dog is a moving, thoughtful and often amusing guide for people living with someone who suffers from depression.
LIVING WITH A BLACK DOG
By Matthew Johnstone and Ainsley Johnstone
Published 01-04-2008 RRP AUD $19.95 ISBN 9780330423717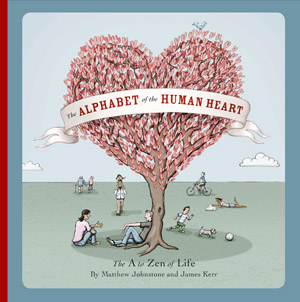 Alphabet of the Human Heart
A handbook for the happy, and a bible for the broken-hearted, The Alphabet of the Human Heart is an enchanting and enriching journey through the upside and the downside of what it means to be human – our hopes and our fears, our strengths and our weaknesses, our highs and our lows.
ALPHABET OF THE HUMAN HEART
By Matthew Johnstone and James Kerr Published 01-11-2009 RRP AUD $19.95 ISBN 9781405039475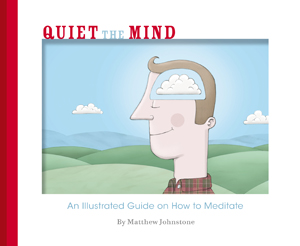 Quiet the Mind
Modern society has made sitting still a near impossible task with its constant mantra of being connected. Our brains never get a break and the result can be increased stress, anxiety, insomnia and, if left unchecked, even depression.
But there is something you can do – nothing!
Matthew Johnstone's new book, a follow-up to his bestselling Black Dog series, is a simple, accessible, step-by-step guide on how to meditate. Stripping back the mystical concepts that often put meditation in the too-hard basket for many of us, Johnstone's book utilises his trademark stunning illustrations to make meditation as easy as sitting down and focusing on the breath. This beautiful guide will help you find the space and peace for a relaxing meditation practice every day.
QUIET THE MIND
By Matthew Johnstone and James Kerr
Published 01-03-2012 RRP AUD $19.99 ISBN 9781742610733
Capturing Mindfulness
Capturing Mindfulness, is a natural follow on from Quiet the Mind. It's a book on how to create mindfulness through photography.
Next to meditation, this is one of the most creative and enjoyable ways to attain mindfulness in day-to-day life. After all the very essence of photography is all about focus and capturing 'the moment'. A camera in your hands is the reminder to consciously slow everything down from your breath, to your walk, to your thoughts and begin to really observe your surroundings as if seeing them for the first time. When we become more consciously aware of where we are, what we're doing and what we're thinking, life can become calmer, more enjoyable and generally more manageable.
CAPTURING MINDFULNESS
By Matthew Johnstone
Published 1 August 2013 RRP AUD $19.95 ISBN 0330421832
The Big Little Book of Resilience
Most of us set out quietly hoping for, and secretly expecting, to live a happy, successful and healthy life. But life doesn't always play fair or go to plan.
The Big Little Book of Resilience is about developing a degree of flexibility, acceptance and self-compassion when those plans go awry.
In this beautifully illustrated book, Matthew Johnstone guides the reader to an understanding of how resilience plays a key role in wellbeing.
He offers an accessible roadmap to developing and maintaining resilience and how it can help you overcome, learn and grow from challenging life events.
THE BIG LITTLE BOOK OF RESILIENCE
Written and Illustrated by Matthew Johnstone
Published by Pan MacMillan Australia
Published 1 February 2015 RRP AUD $19.99 ISBN 9781742614328
Children's books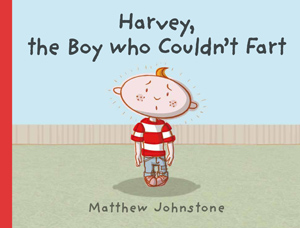 Harvey, the boy who couldn't fart
Everyone can fart. Everyone except Harvey. No matter how hard Harvey tries, he can't manage even a squeak.
A humorous story that will have readers of all ages giggling.
Free fart machine with every book.
HARVEY THE BOY WHO COULDN'T FART
By Matthew Johnstone and James Kerr
Published 01-11-2010 RRP AUD $19.95
ISBN 9781921529832